From book fairs to educator conferences and at the many venues in between, Penguin Random House partners authors with educators to improve learning for students of all ages. Read on to learn more about these partnerships and educational events.
What Does the Education Marketplace Look Like Today?
According to the U.S. Department of Education, enrollment in U.S. elementary and secondary schools is projected to grow to 57.2 million by 2023, while postsecondary enrollment is expected to grow to 24 million students over the same period. At all levels, the percentages are increasing of minority students and of students whose primary language is not English. Preparing students for college and career success has never been a more pressing priority. According to ACT, only 26 percent of twelfth graders are prepared for college in English, reading, math, and science.
Educators are increasingly teaching a larger, more diverse student body with different needs and backgrounds. Therefore, they must find new ways and different narratives to engage their growing and changing student body and keep education relevant to the next generation, while still delivering solutions for college and career readiness. Penguin Random House helps achieve this goal through educator events.
"As a publisher committed to literacy and reading advocacy, Penguin Random House has an important role to play in partnering with educators to help improve learning outcomes," says Brent Gordon, VP of Education Sales & Strategy at PRH. "Strengthening our direct relationships with educators is a strategic imperative, and educator events are one way we're able to learn from our customers and support their efforts. These events afford our authors and our educational marketing teams a unique opportunity to connect with educators."
Events for Educators and Students
Over the past year, Penguin Random House has fulfilled this mission through a wide variety of events in its headquarters and out in the field at educator conferences, school fairs, and other teacher gatherings. Key to the success of these events is identifying the right authors for the right audiences and creating a platform for those authors to share their work with teachers.
Last month, more than two hundred educators attended Penguin Random House's Eighth Annual Author Event for NYC Educators. A collaborative event involving our six school and library divisions, it showcased local authors with the goal of increasing awareness, promoting classroom adoptions, and establishing author speaking engagements.
Over the summer, PRH also hosted its first-ever Common Reading Summit, bringing together key common reading decision-makers across the K–12, higher education, and public library spaces. Imbolo Mbue, author of Behold the Dreamers, spoke to the group during the lunch, and attendees fell in love with her and her story, eager to bring the book back to their committees for possible adoption. Donna Rasmussen, literacy advocate/librarian in the Randolph & Roxbury Public Libraries & School Districts, reflected on her experience at the event: "When I heard Imbolo Mbue speak, I was touched by her sincerity, humility, and sensitivity. I believe the educational community will benefit greatly from Imbolo's story. In fact, I'm thinking I should just leave it in my car so I can show it to everyone with whom I cross paths!"

Maker Lab author Jack Challoner at the World Maker Faire
School fairs are also great opportunities for outreach with educators. For example, author Jack Challoner kicked off his Maker Lab tour with several local school visits, including a weekend stint at the seventh annual World Maker Faire in Queens, NY. Created in association with the Smithsonian Institution and supporting STEM education initiatives, Maker Lab includes twenty-eight kid-safe projects and crafts sure to inspire young inventors and make science pure fun. Challoner spent much of the weekend at the booth helping children contribute to a sturdy bridge built from the book. Independent bookstores, including WORD, R.J. Julia, and Children's Book World, organized Challoner's school events, which included a mix of public and private schools in the tristate area.
Throughout the year, Penguin Random House's education marketing teams work tirelessly to position our authors with keynote in-booth signings and speaking positions at top educational conferences. In the next two months we will have keynote speakers at both the National Council of Teachers of English (NCTE) meeting in Atlanta, GA—the largest gathering of English-language educators in the country—and at the National Council for the Social Studies (NCSS) in Washington, DC. Authors Ta-Nehisi Coates (Between the World and Me) and Bryan Stevenson (Just Mercy) will speak to hundreds of educators at NCTE and NCSS, respectively, sharing their messages and their stories with teachers looking for new ways to talk about the issues of our day with their students, student parents, and fellow faculty. The booths will also be bustling with over thirty children's and adult authors scheduled to sign books at NCTE.
Next March, author Andy Weir (The Martian) will keynote the National Science Teachers Association (NSTA) meeting in Los Angeles, CA, helping oversee a student and educator science competition as well.
Finally, PRH continues to host several standing-room only events at the annual Conference on the First-Year Experience each February. The conference draws in college educators looking for that next book for all of their incoming first-year students to read. Next year is no exception, with many authors scheduled to speak, including Colson Whitehead (The Underground Railroad), Matthew Desmond (Evicted), Dave Isay (Callings), Wayne and Nicole Maines (subjects of Becoming Nicole), Tom Rinaldi (The Red Bandanna), and with a guest appearance by Isabel Wilkerson (The Warmth of Other Suns).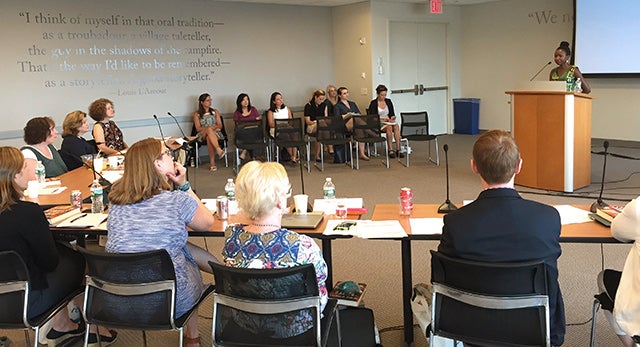 Behold the Dreamers author Imbolo Mbue speaking at the Penguin Random House 2016 FYE Summit

"Penguin Random House has a big opportunity to make a difference in the lives of students, and our author event programming is an important cornerstone of our approach," Gordon observes. "We thank our authors for their active participation and commitment, and look forward to creating even more engagement opportunities for them in the future."
Reach out to your publishing team if you're interested in more information on these events.
Michael Gentile is Vice President, Academic Marketing for Penguin Random House.