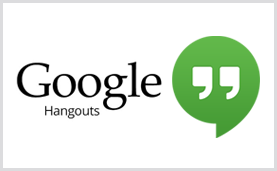 Happy birthday to Google Hangouts, which turns one year old this month. Chats featuring notable authors such as Toni Morrison have put Google Hangouts on the map as an innovative way to engage with readers. Here's what you need to know and keep in mind when planning a Google Hangout.
What is Google Hangouts?
Google Hangouts is a communications platform (text, audio, video) available for free to anyone with a Google Plus account (including Gmail, YouTube, etc.). Anyone can initiate a video-based Hangout or be invited to participate—all you need is a Google Plus account and a computer or mobile device with a webcam or built-in camera.
Google offers two kinds of virtual event formats: Hangouts and Hangouts On Air. Hangouts are used for private video chats with another person or a group. Hangouts aren't recorded to YouTube and are visible only to invitees. Up to ten people at a time can participate in a video-based Hangout. This means ten webcams and their associated microphones will be active in the Hangout window—all of which can be seen and heard.
Hangouts On Air are publicly viewable and automatically recorded to the YouTube channel associated with your Google Plus account. You can invite others to join the Hangout On Air; up to ten people (including you) can appear at one time.
An unlimited number of spectators online can watch the Hangout as it happens live, but without participating on a webcam/microphone. These participants can share typed comments on the Google Plus events page or YouTube. When the Hangout On Air ends, full video of the session is made available on the host's YouTube channel.
How Can Authors Use the Platform?
Hangouts are free and easy to use, making them a great tool to host virtual events. There's no right or wrong way to structure a Hangout. You can use one to promote the release of a new book, share news with your fans, and more. So give thought to what type of event or format would be of interest to your readers.
A Google Hangout can range from an exclusive invite-only event with a few passionate fans to a Reddit-style "ask me anything" that is open to the world. You can also participate in a public discussion with someone else (another author, your editor, etc.) and invite fans to watch the live conversation or tune in to a recording on YouTube. If you have an idea for a Google Hangout, consult with your marketer. While you can find a variety of general tips online, your marketer can help you talk through the virtual event format and discuss effective ways to promote it.
Examples of Google Hangouts 
Last year, Toni Morrison participated in a first-of-its-kind digital book signing at Google's New York offices. Using tablet technology, she signed digital copies of her latest book and chatted with book clubs around the country. Fans could watch the Hangout in real time and submit questions electronically.
Alice Munro, who is located in Vancouver, and Margaret Atwood, who lives in Toronto, participated in a joint Hangout On Air, which was simultaneously broadcast to a live audience at Symphony Space in New York City. The event was a huge hit and has been watched over fourteen thousand times on YouTube.
Most recently, Michio Kaku hosted a Hangout On Air from the Random House offices, where he answered live questions from participants. The video has been watched more than twelve thousand times on YouTube.
Tips for Running a Good Hangout:
Test your entire setup a few times, and practice starting and running a Hangout in advance. This is the best way to make sure your equipment is working, and prepares you for any unexpected issues that may come up.
Ensure that both you and your participants have robust and steady internet connections. If your internet is slow or fluctuates your Hangout experience will suffer (or even disconnect!).
Make sure your face shows clearly on camera. Try to avoid shadows on your face that may result from sitting in front of a very bright window. To obtain higher-quality video, explore purchasing a high-definition webcam.
Make sure you sound good. While a Hangout will work through your computer's regular speakers and built-in microphone, it's better to use a pair of smartphone headphones (the kind with a built-in microphone). This will help you hear other participants better and also cut down on any "echoing" you may experience.