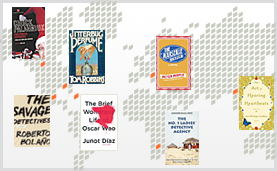 Nothing says summer like a well-earned vacation to re-energize the spirit. Find inspiration from Fodor's 2013 Go List, paired with essential reads. Even if you can't plan your dream trip right now, you can always indulge in summer armchair travel with a terrific "on-location" book.
Highlights from Fodor's 2013 Go List:
Mexico City: "A vibrant dining scene and great shopping have made Mexico City an inviting and exciting destination again, following notable reductions in crime and pollution. New draws include the dazzling Museo Sumaya and its world-class art collection, but worthy standbys, such as the Museo de Frida Kahlo (the artist's one-time home in Coyoacán) and Museo Nacional de Antropología, offer fascinating glimpses into Mexico's history and culture."
Suggested reading:
The Savage Detectives, by Roberto Bolaño. A novel about the Mexico City arts and poetry scene, spanning the 1970s to the 1990s and featuring a group of young poets and their literary movement, Visceral Realism.
Caramelo, by Sandra Cisneros. A multigenerational family narrative centered on the only girl in a family of seven children, and her family's annual drive from Chicago to their grandmother's house in Mexico City.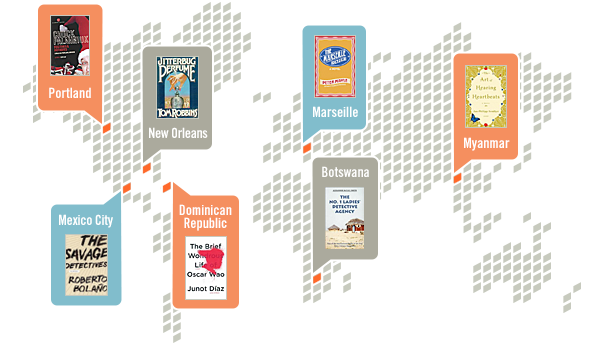 Marseille: "Get ready for a year packed full of arts and cultural events as France's newly vibrant port city of Marseille takes on the role of Europe's 2013 Capital of Culture. A slew of new art galleries and venues will host rotating exhibitions all year long, along with a full roster of street fairs, open-air concerts, fireworks shows, and food events."
Suggested reading:
The Marseille Caper, by Peter Mayle. An engaging thriller that features sleuth extraordinaire Sam Levitt on a romp through the South of France.
Garlic, Mint, and Sweet Basil: Essays on Marseilles, the Mediterranean, and Noir Fiction, by Jean-Claude Izzo. A collection of essays by the acclaimed poet, playwright, screenwriter, and novelist about the city he loved, the sea to which he belonged, and the literary movement that made him famous.
Portland: "The show Portlandia may mock its namesake city for embracing everything from the locavore food scene to molecular mixologists, but the constant infusion of new ideas makes this vibrant metropolis hum with life. Add a booming food truck scene (Norwegian flatbread, anyone?), the new Feast Portland food festival (delicious food for an altruistic cause), and several new hipster hotels, and you have all the components of a city in full upswing."
Suggested reading:
Fugitives and Refugees: A Walk in Portland Oregon by Chuck Palahniuk. A mixture of practical travel guide and personal vignettes featuring quirky acquaintances and moments of happenstance in Portland.
Sometimes a Great Notion by Ken Kesey. This powerful tale of an Oregon logging clan is often described as the quintessential Oregon novel.
Myanmar (Burma): "Few countries have shot to the top of travelers' wish lists as quickly as Myanmar (also known as Burma) did in 2012. After decades of political isolation, headline-making visits from Hillary Clinton and Barack Obama confirmed the country's return to the Southeast Asia tourist trail. As Myanmar's doors open to the West, its unspoiled atmosphere is unlikely to last. Go now while it still feels undiscovered."
Suggested reading:
The Art of Hearing Heartbeats, by Jan-Philipp Sendker. A love story set in Burma that spans the decades between the 1950s and the present.
Finding George Orwell in Burma, by Emma Larkin. A travelogue about a woman's journeys through Burma using the life and work of George Orwell as her compass.
New Orleans: "The impact of Hurricane Katrina still lingers in some parts of New Orleans, but this is a city with an unwavering determination to live on and let the good times roll. There's nearly always a party happening here, but 2013 is a blowout year: the city hosted Super Bowl XLVII in February and the highly anticipated National World War II Museum expansion opened to much fanfare (featuring a simulated submarine experience, among other cool attractions). This summer's R&B and jazz festivals will also get revelers into the streets."
Suggested reading:
Jitterbug Perfume by Tom Robbins. From ancient Rome to modern-day New Orleans, this epic tale explores the themes of immortality, the meaning behind the sense of smell, love, and religion.
A Confederacy of Dunces by John Kennedy Toole. This comic novel is loved for its larger-than-life characters and rich depiction of New Orleans and the city's dialects.
Botswana: "In this remote part of southern Africa, you can safari like a local in Botswana's diverse landscape. You'll get unforgettable sightings of the Big 5 with backgrounds ranging from the lush Okavango Delta to the dramatic Kalahari Desert—but without the Great Migration of tourists. And 'undiscovered' doesn't mean you have to settle for sub-par accommodations; recent additions to the luxury scene guarantee a stunning stay."
Suggested reading:
The No. 1 Ladies' Detective Agency by Alexander McCall Smith. The first book in a mystery series with a female protagonist who runs a Botswanan detective agency. Readers will receive insight into social relations in traditional African society and rural life in Southern Africa.
When Rain Clouds Gather by Bessie Head. One of South Africa's most influential writers explores the life of a man who runs away from his birthplace in South Africa to become a refugee in rural Botswana.
Samaná Peninsula: "If you think the Dominican Republic has nothing but giant all-inclusive resorts, then Samaná will be a breath of fresh air. Secluded beaches, small hotels, friendly locals, and plenty of natural wonders await in an area that has not (yet) experienced massive development. The tourist center is Las Terrenas, and that's where you'll find the most travelers. JetBlue's new direct flights mean this paradise has recently been found, so go now before the megaresorts follow."
Suggested reading:
The Brief Wondrous Life of Oscar Wao by Junot Díaz. Chronicles the life of a Dominican boy growing up in New Jersey and the curse that has plagued his family for generations.
In the Time of Butterflies by Julia Alvarez.A historical novel based on the true story of the four Mirabal sisters and their attempt to overthrow the Trujillo regime.