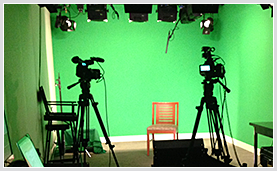 Building on the success of the existing Hudson Street video studio, Penguin Random House recently opened the door to a second state-of-the-art facility at 1745 Broadway in New York.
To accompany the new facility, Penguin Random House has significantly expanded the video production and services team. We caught up with John Clinton, director of digital video, to find out more about the new facility and how video teams at both locations can support our authors.
John, can you tell us about your team's specialties?
The core of our work is creating author videos, usually at one of our in-house studios, although we also work in other locations. Beyond hands-on production, our team also provides a variety of support for internal teams and authors alike—from making videos with other third parties to answering questions about YouTube to setting up video webcasts. With such a diverse list of authors at Penguin Random House, we have no shortage of interesting projects and video formats to work on.
How many authors have visited the new studio? Can you share some examples of videos?
We've already had more than 30 Penguin Random House authors visit the new Broadway studio, most often for talking-head–style interviews, like this one featuring George R.R. Martin and his editor, Anne Groell:
http://youtu.be/11z6ig3_l9E
Can you incorporate multimedia effects?
When a title lends itself especially well to multimedia effects or an author has access to appropriate visuals, we can incorporate them. This is something we did with Suki Kim, author of Without You, There Is No Us:
Can you shoot on location?
Yes, we can, usually for author appearances or standup interviews. Here is a standup interview with Bella Thorne, author of Autumn Falls:
And here is a panel we recorded featuring author Anne Rice and her editor, Victoria Wilson:
What other fun projects have you done?
Our team has also made it possible for many authors to participate in corporate campaigns, such as #GiveaBook. We recorded and/or edited 33 videos for the cause:
Do you have any guidelines for authors looking to improve their video practices?
We have run two webinars for authors, How to Make the Most of Online Video and Google Hangouts on Air. Authors can access recordings of these webinars in the Author Portal. Additionally, authors should check out these articles on Random Notes:
What should authors do if they have a video-related question or idea?
Videos come in all different shapes and sizes, and we are always open to discussing ways to make inventive and sharable videos featuring Penguin Random House authors. Reach out to your editor or marketing contact if you have a video-related question, want to start a conversation about a new video idea, or wish to inquire about the availability of the teams at either studio location.
John Clinton is Director, Digital Video.
Andrea Bachofen is Senior Manager, Author Platforms.