From royalties and sales data to anti-piracy tools and marketing tips, the Penguin Random House Author Portal makes a lot of information available to you. In this article, we'll break down some key features you might not be aware of, and reintroduce you to the online Author Questionnaire.
The most-used feature on the portal is our Sales Data tool. Whether you're accessing the portal from your mobile device, tablet, or desktop/laptop computer, you can take a deep dive into your sales data with user-friendly graphs that you can customize across dates by title, format, channel, and more. The tool allows you to explore sales patterns for an individual title, or compare across your titles. The graphs can be exported to a variety of formats for easy record-keeping.
Additionally, authors can download hi-res versions of their covers, view their corresponding catalog pages on penguinrandomhouse.com, and check if their titles have appeared in any reviews or bestseller lists. If you have questions about the functions of the sales tool, please reach out to portaladmin@penguinrandomhouse.com.
Another of our frequently visited pages is the Royalties page, under the Sales and Title Data tab. On this page, you're able to view U.S. and Canadian royalty statements for all your titles. The main page gives you an overview of your cumulative earnings, payments, and statement balance; each statement can be accessed individually or they can be downloaded together in a zip file. Please visit this page to learn more about your Penguin Random House royalty statement.
The Subrights page in the same menu will take you to a brief overview of each of your titles' subsidiary rights sold by Penguin Random House. This page includes the date sold, the type of rights sold, and the party the rights were sold to. If you have questions about your royalties or subrights, please reach out to royalties@penguinrandomhouse.com.
Being a debut—or even a more established—author can be confusing at times, and you may have many questions throughout this journey, especially questions about the publishing process. Enter the Connect with Readers page, under the Resources tab. On this page, you'll find more than 100 articles for authors of all experience levels. For those brand new to publishing, consider beginning with the "Where do I start?" section to learn more about building your community, pitching your book, and general publishing timelines. From there, you can venture through popular and new resources, find articles by topic, or sort by level of experience.
You may have noticed that we've recently paused our Author Webinar coverage—though our previous recordings can still be accessed at this link—and that's because we have some exciting news to share with you. The Author Webinar program was first launched in 2012 and since then, we have made few changes to the format. We are currently developing an upgraded program with clearer instructional videos and increased video quality, set to be released later this year. Keep an eye on the Author Portal page for updates!
Every title published by Penguin Random House is covered globally under our agreement with Link-Busters, a leading international anti-piracy service provider. Link-Busters continuously scans cyberlockers, peer-to-peer networks, and websites for instances of pirated Penguin Random House content and takes immediate action to have the pirated files removed.
Should you see a link to your book online, navigate to the Anti-Piracy page, under the Resources tab. We encourage you to submit the link to us using the form on this page, which will go directly to Link-Busters. Please note this also covers illegally uploaded audiobooks from PRH Audio, whether the link directs users to a file download or to a streaming service like YouTube. After review, immediate legal steps will be taken.
The Author Questionnaire is an important tool for your publishing team in the creation of promotional strategies for your titles. This tool asks general questions about you and your background or other books you may have previously published, as well as many questions about your upcoming title. Your answers help your marketing and publicity teams come up with strategies for getting your book in front of as many readers as possible.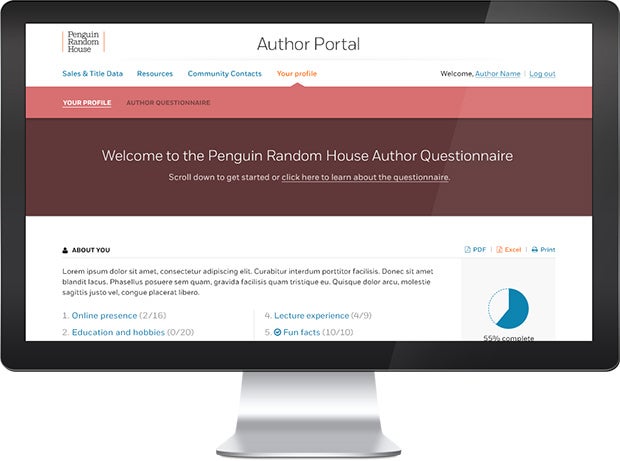 Clicking the Author Questionnaire link under Your Profile will take you to the Author Questionnaire page. The first section you will see is About You. As these questions are specific to you and not your titles, you only have to fill this section out once. You will always have access to this part of the questionnaire, and you can come back and update your answers at any time.
Any upcoming title within eighteen months of its on-sale date will appear in the Active Title section. These title-specific questions are critical in building the marketing campaign for your upcoming book—and while the editing window lasts eighteen months, we encourage you to fill out the information as soon as possible.
If you have questions about the information requested, please reach out to your editor or your marketing or publicity team directly.
As always, if you have any feedback, questions, or suggestions for the Penguin Random House Author Portal, send us an email at portaladmin@penguinrandomhouse.com. We'd be happy to hear from you.
Phil Stamper-Halpin is Senior Manager, Publishing Development & Author Platforms, for Penguin Random House.