The most talked-about internet trend of the last year has been the huge growth in mobile browsing, driven by sales of smartphones and tablets. We review some surprising mobile stats and suggest what authors can do to take advantage of this trend.
Mobile Hits Its Stride
Here are some surprising statistics that show surging interest in browsing the web and reading eBooks on the go:
What Might This Mean for Authors?
A good first step is to look at your website, and any emails you send out, on a tablet or cell phone. What do they look like? Are they easy to use?
Here are ideas for how websites and emails can be designed differently for a mobile audience:
Prioritize content that you think your visitors might be looking for on the go by putting it at the top of your main landing page or email.
Avoid tiny buttons or links that are hard to click on. Mobile surfers prefer to scroll to get more information. (A good rule of thumb on button height is about forty-four pixels.)
Simplify navigation; mobile users may not have the patience to try to figure out something complicated.
Avoid Adobe Flash, as it can't be used on mobile devices.
Cell phones generally load content slower than traditional computers because of their processor speed and internet connection. In order to improve the load time for mobile users, you may need to reduce the number of images you present or their resolution/file size.
Emphasize social media buttons and content, as people who use smartphones are much more likely to engage on social media sites than those that do not.
Site Redesign
Redesigning an email template is normally straightforward, but redesigning a website can take a bit more work. Take a look at how people are using your current site: What percentage of your visitors use mobile browsers? How long do they spend on your site, and what is their bounce rate compared to those using desktop browsers? Bear in mind that a mobile redesign will not only improve your users' site experience but may also attract new visitors by helping your site rank more highly in mobile search.
If your website was built using WordPress or a blogging platform like Typepad or Blogger, improving the mobile experience might be as easy as installing a plug-in or selecting a theme that has responsive elements. These articles from Smashing Magazine, Sitepoint, and Tripwire have some good suggestions for WordPress in particular.
If you need a full site redesign, talk to your developer about using a relatively new technique called responsive design, which will enable you to meet the needs of mobile and non-mobile users with a single site. Responsively designed websites detect a visitor's device size and will resize, stack, or even delete page elements to give visitors a better experience. A single responsive site should rank better in search than separate mobile and non-mobile sites, and will be easier to track with Google Analytics. However, if a complete redesign is not possible, developing a separate mobile site could be a good option.
Before you go live with a new site or email design, test it on multiple different devices, operating systems, and browsers.
QR Codes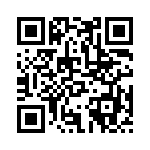 Another opportunity that might be worth considering is QR codes (those square pixelated barcodes that crop up everywhere from magazines to billboards). The function of QR codes is to enable someone with a mobile phone to scan them and be directed to a website (preferably mobile-friendly). A QR code could be a useful addition to postcards or posters printed for an event.
Google allows you to generate and track QR codes for free (follow the instructions to shorten the website URL and then click on "details" to be taken to a QR code you can copy and paste). This article from Econsultancy also has some useful tips.
And, Finally, What Not to Worry About!
Social media: Companies like Facebook and Tumblr have been heavily investing in apps and mobile sites to make sure your content is presented well online.
SMS or text message marketing: This has been a hot topic in the past, but we generally don't recommend it for authors as a result of the complex legal/privacy issues involved.
Apps: You won't need to create an app unless you need software or functionality that can't be easily replicated on the mobile web—or if having a presence in an app store is important for your brand values.
Sophie McNeill is part of the Digital Marketing and Channel Development team.