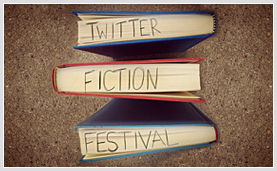 Authors across numerous publishers, including Penguin Random House, recently transformed Twitter into a forum for experimental storytelling during #TwitterFiction Festival 2014. The festival, which took place March 12 through 16, was a partnership among the Association of American Publishers, Penguin Random House, and Twitter. It resulted in a five-day round-the-clock global literary event that reached 50 million people on Twitter.
#TwitterFiction Festival brought together fifty participating writers from ten countries to share innovative fiction on the social media platform. Storytellers kept things lively by employing techniques such as visual, crowd-sourced, and multiple-narrator fiction.
Highlights included:
The festival also featured fiction from contest winners, who submitted their story ideas to a panel of judges from the publishing industry. Visit the #TwitterFiction Festival site to see the complete lineup and read the archived stories.
#TwitterFiction Festival 2014 expanded on the first festival, held in November 2012. The collaboration among Twitter, Penguin Random House, and AAP resulted in a bigger, more ambitious event. This year's festival produced its first live kickoff event in New York City, blending in-person and digital performances, with video of the event streamed live globally. The sold-out event was hosted by Sara Barron, author, comedian, and frequent host of The Moth. Event highlights included a performance by R. L. Stine, who told a ghost story as an illustrator brought the tale to life for the audience.
According to Christine McNamara, vice president and director of partnerships at Random House, "#TwitterFiction Festival was a successful collaboration that included support from the entire publishing industry. We are always looking to build our community on Twitter to support our authors. Anything that is good for books and reading is good for authors and publishers, and we were excited to participate in such an innovative event celebrating storytelling."
Photo credits: Alexis Buryk Photography