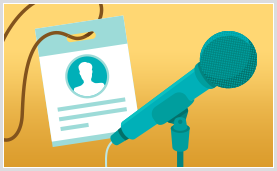 Traditional consumer events such as book tours and press events have long been an important part of the publishing mix, and continue to be vital in spreading the word about a new book. But Penguin Random House has also been looking for new ways to connect readers directly with their favorite authors—by inviting super-fans to live events that are bold, exciting, and fun.
Read on to discover what we've learned through hosting events, including targeting science fiction fans at Comic Con; getting Mary Pope Osborne into a thousand schools at once; giving fans of Diana Gabaldon a Highland fling; inviting readers and bloggers into the heart of publishing at our Open House; and harnessing the power of social media natives at the #TwitterFiction Festival.
Open House
On November 14, the Random House Group opened its doors at 1745 Broadway to avid readers, influential bloggers, and media for its fifth Open House, a ticketed full-day event that included interactive author panels, book signings, and more. Attendees got a behind-the-books look at what's new in publishing and had the opportunity to mingle with authors, publishers, and other readers. The most recent Open House focused on the holiday season, and showcased a diverse group of well-known author personalities from across the Penguin Random House lists, including New York Times food editor Sam Sifton, chef Gabrielle Hamilton, celebrity makeup artist Mally Roncal, and actress Brooke Shields. Guests received an overstuffed gift bag featuring a selection of upcoming titles and goodies from participating partners, including Talbots, Redbook magazine, Twinings Tea, and Walkers Shortbread.
What we learned: Providing guests with an exclusive experience (like inviting them into Random House's headquarters) draws a crowd and sparks social media chatter.
Outlander Retreat
In June, fans of Diana Gabaldon spent a day with Diana and other like-minded readers at an Outlander retreat in Seattle, featuring Scottish dancing, floral crafts, Outlander-themed improv, and Scottish food. One highlight was a Q&A with Diana herself to answer readers' questions about the Outlander universe and characters. During this all-day event, fans received an edition of Diana's new book, Written in My Own Heart's Blood, which the author personalized for each guest.
What we learned: This highly targeted event worked well because of the immersive nature of Diana's writing. We knew that receiving an early copy of the book would be a huge draw for dedicated fans, but many readers also told us that their favorite part of the day was connecting and sharing their passion with other Diana Gabaldon fans.
Doctor Who at New York Comic Con
At New York Comic Con, we corralled more than 125 science fiction lovers to participate in a Doctor Who trivia event. Fans of the franchise formed teams to show off their extensive knowledge, and winners received copies of the latest Doctor Who novels from Broadway Books. (Check out this video to see the winners in action!) The trivia program was a great opportunity to do something fun for fans of the series while introducing our books to a targeted and captivated audience.
What we learned: Tapping into an larger existing event can be very helpful in attracting an audience. Sometimes it is easier and more rewarding to go where the readers are, rather than to try to get the readers to come to you.
Reading Buddies/Magic Tree House Schools Event
Last year, we kicked off the Magic Tree House Reading Buddies Week with an event in New York, which was webcast live to nearly 1,000 schools nationwide. Magic Tree House author Mary Pope Osborne headlined the program, which also included a performance from the Magic Tree House characters Jack and Annie, as well as the debut of a new Reading Buddies song.
What we learned: Adding a video webcast to an event can be a scalable way to reach a larger audience. Creating this webcast was fairly expensive, as achieving the desired level of quality required professional cameras and other special equipment, but for smaller events (such as a personal webcast directly from your home), free resources will often be sufficient. We recommend Google Hangouts On Air to authors for simple events.
Twitter Fiction Festival
Some events target broader groups of readers who may not realize they share a passion for a particular author or book. In April, we partnered with Twitter on the #TwitterFiction Festival, an event that connected over 50 million fans with their favorite storytellers. Authors including Anthony Marra, Alexander McCall Smith, Emma Straub, and Andrea Cremer produced innovative fiction on the social media platform in a variety of interactive ways. For many, the highlight was a kick-off event in New York City, hosted by Crown author Sara Barron, that featured live storytelling from authors R. L. Stine, Diana Spechler, and James Braly. Everything onstage was beamed to Twitter via both live tweeting and a live webcast of the event.
What we learned: Having the right partner for your event is important. We could not have achieved this reach without Twitter's platform and unique capabilities. Equally, Penguin Random House's publishing experience allowed us to identify and attract a phenomenal roster of talent.
Sophie McNeill is part of the Digital Marketing and Channel Development team. Milena Schmidt is part of the Random House Digital Publishing Group.