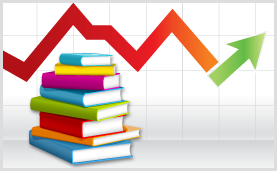 Vendor Managed Inventory (VMI) is a hot topic in business circles and a capability that Random House has been developing for some time. To get at the meaning behind the management-speak, we sat down with Nihar Malaviya, our SVP, director of  strategy, analytics & program development, and Alyssa Oles, manager of supply chain projects and business analytics.
What is Vendor Managed Inventory?
Nihar: With Vendor Managed Inventory (VMI), publishers take on responsibility for making sure that retailers have the right titles and the right amount of inventory in their stores. Random House has been running its VMI program since 2010 with several customers, including independent book retailers and national bookstore chains.
Why would retailers want us to manage their inventory? Surely that's their job?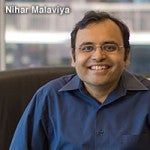 Nihar: Actually, in a lot of cases, retailers are really happy for us to manage their store inventory because we have the same goals. We both want stores to maximize sales by having the right titles in stock at all times, while carrying as little stock as possible overall. As shelf space in the industry declines, it is particularly important to make sure that the shelf space dedicated to books works as hard as possible.
When we take over a retailer's inventory management, it frees up their buyers' time to focus on merchandizing, and how best to sell upcoming titles. Retailers are also keen to take advantage of the technology and algorithms we've developed, which allow us to fine-tune the assortment of books in a store in a way that a human being could not.
In the digital age, why is Random House focusing on inventory at physical bookstores?
Nihar: Random House believes in being the best in both physical and digital. To us, excellence in digital should not come at the expense of physical, especially as the majority of total book sales are still physical. And our size and scale allows us to do both. Moreover, the trends in the digital marketplace actually make it even more important for us to do this. It's very important not to disappoint any consumer who's looking for a physical book at a bookstore—and to give every book the best chance of being sold. 
What are the benefits of VMI for Random House authors?
Nihar: The biggest benefit to authors is that their titles are more likely to be available in-store for purchase. One of the most amazing things about our VMI system is that it is designed to understand title demand at a store-by-store level. For example, we often see that authors are particularly popular in their home towns.
Alyssa:  Our system is pretty clever in taking other things into account, too. We can feed in information on promotions and seasonal spikes such as Mother's Day or Christmas. It can also pick up the impact on an author's previous titles when a new book is released. For example, when Gillian Flynn released Gone Girl, the system automatically noticed that her previous two titles picked up in sales, and increased in-store inventory of those titles.
Do you manage all books?
Alyssa:  At the moment we are focused on what we call "model" titles: books that have settled into more stable sales patterns, making their sales easier to react to.
How does the warehouse team support VMI?
Alyssa:  Although we do feed in predictive information like promotions, the system's real power is in reacting to what is currently happening with sales at a title level in each store. When a store is running low on a title, our systems will spot it and the warehouse will ship them more copies.
Our supply chain team has done a lot of work to increase the speed with which we are able to replenish stores. This is hugely helpful for VMI. It means that our systems can react very quickly if there is a spike in sales, for example as a result of an author speaking tour or publicity event.
What do our retailers think of VMI?
Nihar: All the feedback we've received from retailers has been very positive, especially the improvement in sales and reduction in overall inventory levels. Retailers have appreciated how their buyers have been freed up to focus on other parts of their jobs, and they've been particularly excited about the opportunities to expand store assortments based on titles doing well in comparable markets or stores.
What's next for the program?
Alyssa: Now that everyone is confident about how we are handling our "model" titles, we are exploring how to manage inventory for newer books, where sales can be much more volatile. That will be a big next step for us! We are working with our retail partners to further improve replenishment time. Finally, we'd also like to expand the program to other retailers in the future.