People love to talk about the death of the publishing industry, but as we've shown time and time again, the truth is another matter. The AAP recently released its industry-wide annual report of 2015 data, and here are some key takeaways.
The Big Picture Looks Good
AAP StatShot Annual sets the standard for measuring the size of the trade publishing industry. The AAP just released its report for 2015 and, as you can see below, we have an incredibly stable industry. (FYI—"AAP" here stands for Association of American Publishers, not the American Academy of Pediatrics, which is the first thing that comes up when you search for "AAP" in Google.)

What's remarkable is that after a blockbuster year in 2012—which saw the publishing phenomena Fifty Shades of Grey and The Hunger Games dominate with unprecedented sales—trade publishing in 2015 rebounded to nearly equal units sold and even higher net dollars.
What About Ebooks?
In regards to the "ebook transformation," the market for ebooks has been stable the last three years as a percentage of the business, and in 2015 actually lost some market share. Will this continue? We don't know at this point. One year doesn't make a trend, but we do have indications that physical books have rebounded somewhat.
The Decline of Mass Market
This graph breaks out the major print formats, and you can see that mass market is still in decline; publishers are publishing far fewer mass market books, as many mass market readers have switched over to ebooks. Hardcovers are stable, and we have seen growth in the trade paperback format. What you don't see here—because AAP only started tracking them in 2012—is board books, primarily juvenile titles, which had a very healthy increase the last two years.
Audio Remains on the Rise
Audio continues to be a growing category. I have separated audio from the other formats to show that while audio overall is only a fraction of the market, and physical audio has seen some decline, it is more than made up for with steady growth in downloadable audio each year.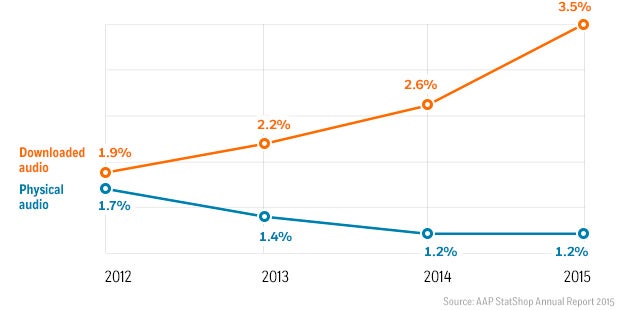 *Net dollars to the publisher.
All in all, people still read, and books still sell. Keep writing great books.
Dave Thompson is VP, Director, Sales Analysis for Penguin Random House.