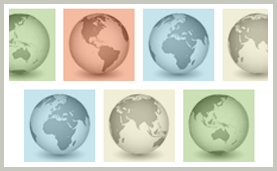 International sales in all formats are a substantial and growing share of the total market for Random House, expected to surpass $100 million by the end of 2012.
To find out more, we sat down with Cyrus Kheradi, Senior Vice President, International Sales and Marketing, to hear what his team is doing to help sell Random House books all over the world.
How many people work on international sales at Random House?
Cyrus: We have a dedicated team of twenty-three people who sell English-language editions of Random House books outside of North America. Eight of those people are based overseas.
We're selling all over the world, but our largest markets today include continental Europe and East Asia, and we're experiencing  major growth in China, Korea, Singapore, the Philippines, Japan, the UK, Ireland, Australia, New Zealand and South Africa. It's a lot of ground to cover, but we have a fantastic team. We meet retailers and distributors in the field, provide marketing support for foreign booksellers, and create promotional materials such as bookmarks, bags, posters, window displays, and event kits for booksellers.
Over the last two years, international sales have grown significantly.  How have you achieved this?
Cyrus: Yes, we're very happy to have grown over 14 percent in the last two years. A few elements have come together to achieve this.  First, it's crucial to get books to customers more quickly and efficiently, and so we have worked hard to substantially decrease transit times between our warehouses in the United States and distribution facilities overseas. The new freight schedule is now in place in the UK and Europe, and we'll be expanding to Asia soon. This is something Random House has pioneered.
Second, we  have had to be extremely flexible to find the best opportunities for our books in overseas markets. For example, we have developed relationships with schools and other educational outlets, providing children's books to students learning English. In Japan, we used special labels to detail the English-language level of each book. Once teachers could easily identify the level of difficulty in each title, we sold more of them. Things like this make a difference, and that's what has made us so successful.
Finally, and not surprisingly, the key element has been to market our books aggressively. Two years ago, we set up a dedicated international marketing department that conceives and executes  consumer- and trade-facing campaigns directed at selling all formats of our titles overseas, including eBooks and audio.
Are you selling all Random House books overseas? 
Cyrus: We are selling our authors' books in all territories for which English language rights were granted in the individual author agreements. If we hold world rights for English language editions, we of course sell to all markets. In some cases, the book's UK publisher controls exclusive rights in certain markets—often this includes current and former parts of the British Commonwealth, such as Australia, India, and South Africa. Usually, when a book has both a US and a UK publisher, we each have some exclusive markets and then both have access to the so-called Open Market territories. The Open Market territories allow for distribution of all English language editions and leave the choice to the retailers and consumers of which edition they prefer.
Do you see the adoption of eBooks growing in foreign countries as well?
Cyrus: Digital adoption is growing for sure, though at a slightly slower pace than what we have seen in the US.  We are constantly scanning the market and working with relevant new digital accounts. That said, we have a relatively rigorous approval process for new digital players—they have to prove that they have adequate reporting capabilities and file protection measures in place. We are currently seeing digital adoption of our books growing very rapidly in some European countries such as Germany, France, and the Nordic states, and also in other regions, namely Australia and Brazil.
Do you support authors with local appearances when they are traveling abroad?
Cyrus: Yes, we do indeed. If an author has recently published a new title that is selling overseas, we can help him or her connect with local bookstores to set up events and marketing activities. We work closely with the publicist or editor, who is always the best first point of contact for an author who is planning to travel abroad and is interested in setting up an appearance.