Penguin Random House recently partnered with Dubit, a children's media and research company, to better understand what kids and teens watch, read, listen to, and play. Read on to learn more about media trends in these age groups.
Defining "reading" in this survey
To interpret the data, we first need to look at the key definitions and parameters of the study. When we ask respondents about reading, we mean reading physical or digital books. We make it clear to respondents that we don't mean magazines, newspapers or articles, online content, etc.
However, we do not differentiate between reading for fun and for school. In our experience, most kids see great stories as great stories, whether they are reading them out of choice or as part of their studies.
How do kids and teens choose content?
Every person out there has only so many hours in the day! For kids, this time can be further limited by school, chores, homework, and various afterschool activities. This leaves only an estimated six hours of "free time" per day for kids and teens to enjoy—time that every entertainment industry from publishing to streaming services to gaming is competing for.
So, what factors determine how kids and teens choose the content they consume? The illustration below breaks down a "Maslow-ish" hierarchy of needs for kids' media, with the most important deciding factors at the base of the pyramid (note that not all factors are relevant to every type of media).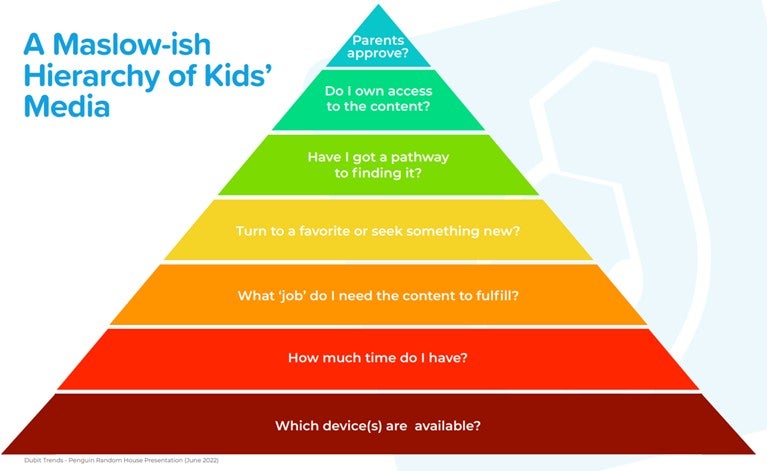 What kind of content appeals to each age group?
This survey also focused on what motivates kids and teens to choose certain content. Kids (eight to twelve years old) were drawn to content based on characters kids like (77 percent), content that parents approve of (76 percent), and content that kids trust and understand (70 percent). Meanwhile, teens (thirteen to seventeen years old) also care primarily about the characters they like (70 percent) but want the content to have a great storyline or narrative (67 percent) and to be low cost or free (63 percent).
When it comes to entertainment genres, humor and action/adventure top the charts for both kids and teens, but teens show an increased interest in scary/creepy or mystery/thriller genres—as shown in the success of shows like Stranger Things and The Walking Dead, which this survey listed as the most liked TV shows for thirteen-to-seventeen-year-olds.
Where does reading fit into all this?
Depending on their age, kids read on average between eight and ten hours weekly. For eight-to-twelve-year-olds, book reading peaks right after school, whereas for teens it's more common at bedtime. On weekends, reading is more common in the evening. In addition, compared to 2017, there has been a significant increase in the number of light-to-moderate readers aged eight to seventeen who report that they've listened to audiobooks recently.
When surveying for other activities that compete for their time, kids cited going out with family (74 percent), streaming video online (70 percent), and using apps or a console to play games (65 percent) as activities they enjoy. Teens showed a similar trend, but also focused more on listening to music (73 percent), using social media (65 percent), and spending time with friends (64 percent) among their top activities.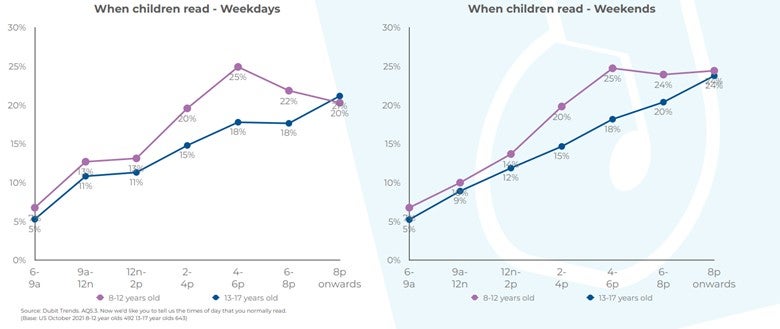 How do kids and teens discover new content?
As with studies done for adults' reading habits, kids (56 percent) and teens (63 percent) discover new content primarily from their friends, showing that word of mouth still reigns supreme in the entertainment industry. That said, for kids, YouTube (36 percent) comes in second, surpassing recommendations from parents (35 percent). For teens, social media is a strong presence, with this demographic reporting that Facebook (46 percent), YouTube (37 percent), Instagram (35 percent), and a new addition, TikTok (33 percent) all help them discover new content.
For books specifically, the table below shows how kids are motivated to try them. Comparing eight-to-twelve-year-olds with teens, eight-to-twelve-year-olds are more swayed by recommendations from friends and teachers, the cover illustration, and advertising, while teens are more moved to try books based on social media, the back cover, and reviews/recommendations from booksellers.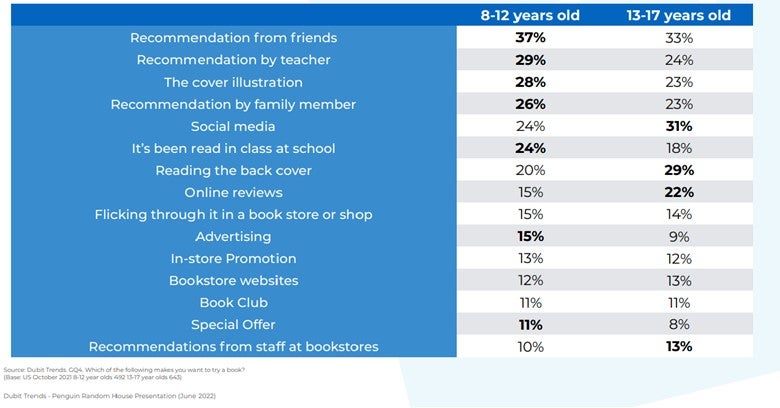 What are the key takeaways?
Everything competes with everything for middle-graders' and teens' limited free time.

YouTube, gaming, SVODs, and for teens, music and social media steal time away from reading.

Humor and action/adventure content resonate most for middle-graders and teens.
Scary/creepy and mystery/thriller content is particularly popular with teens.
The reader journey tends to start with book recommendations from friends, with growing influence from social media and back-of-book descriptions as kids grow older.
Alison Wallach is Senior Manager of Children's Consumer Insights for Penguin Random House.